Design, Production, Sale, Spare parts, Service and Repair electrodrive and motor to 1000kW

Electrical pumps

Higher pressure submersible pumps – COV range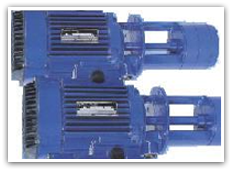 Pumps of the COV range have a flanged structure and are to be installed only with vertically positioned shafts. Their driving unit is a three-phase asynchronous motor with a squirrel-cage rotor. In order to ensure the correct function of the pump, the chamber containing the impeller wheel has to be submersed in liquid at all time. This is also essential to ensure that the pumped medium does not contain coarse impurities. The exhaust duct of the pump is terminated with an internal pipe thread.

Pumps are supplied with a terminal board in the position above the outlet opening; if requested by the customer, the terminal board may be moved into the position as specified in the dimensional sketch.

Submersible pumps of the COV type are used to pump liquids of a viscosity not exceeding 90 mm2s-1(12º.E). They are fit for use in machine tools to transport cooling and cutting emulsions and cooling oils, to flush away chips from work-pieces using a liquid, or to circulate the cooling and cutting liquid through a filter. The temperature of the pumped liquid must be between 0º to 60º C. The pumps must not be used for pumping flammable liquids.