Design, Production, Sale, Spare parts, Service and Repair electrodrive and motor to 1000kW

Electrical pumps

Submersible electric pumps 3COA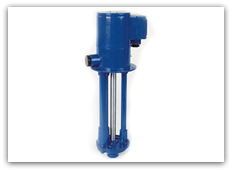 Electric pumps of the 4 COA range are used to pump cutting and cooling emulsions in machine tools. The viscosity of the pumped liquid must not exceed 150 mm2.s-1, temperature 0-60 °C, and the size of impurities 0.1 mm. The pumps must not be used for the pumping of flammable liquids. The pumps feature a special flanged shape adapted for installation directly onto the cooling liquid tank.

The maximum and minimum level of the liquid is specified in the dimensional sketch. Fixing dimensions comply with the DIN 5440 standard. If requested, the suction opening of the pump may be provided with a screen. All pumps are manufactured in the stainless AV2 version and most types are also manufactured in the acid-proof AV version (max. acidity 3pH).
Voltage and frequency
The pumps are usually manufactured for the following voltage: 380-440/220-254 V, 500-575/288-332 V, 230 V
Other voltages may be accommodated upon request.
The pumps may be used for a frequency range of 50 to 60 Hz.
Operating conditions
Climatic versions according to EN 60 721-3-3

moderate climate WT (M)
tropical hot climate WDa

Product location category according to EN 60-721-3-3 (3K4, 3B1, 3C2, 3S2, 3M3)
Elevation: The pumps may operate at locations of up to 2000 m above sea level.