Design, Production, Sale, Spare parts, Service and Repair electrodrive and motor to 1000kW

Converters

DC

Screw converters

DC converter DC WAVE-R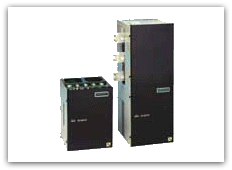 The DC WAVE -R converters support any industrial application where dc motors are employed. Their compact size and simple construction make the assembling and installation inside the cabinet very easy.

Voltage and frequency
All regulators can be supplied with a fixed motor excitation power supply, or, in applications where more accurate regulation of motor excitation current is required, converters may be supplied with variable motor excitation voltage.
DC WAVE - R regulators feature a control loop of double speed and current loop type. This type of system guarantees safe operation.
Digital inputs and outputs are optically isolated; analogue inputs and outputs are protected with suitable means against a short-circuit to a ground.
communication RS485, ProfiBus, CanBus.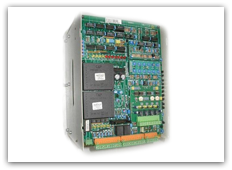 Additional module signalling operating conditions
Ensuring full compatibility of the converter DC WAVE-R with Formic -V
Use of additional module
Signalling zero speed (in duplicate with the converter, but more accurate, adjustable)
Signalling incompliance of preset and actual speed (adjustable)
Signalization of the preset speed level
Signalization of armature current, if exceeding the preset value (adjustable)

Converter excitation
Fixed excitation
In addition to a bridge-type rectifier, the circuit structure includes one current transformer measuring the supplied current.
Size 0
Size 1
Size 2
Supply voltage
260V 50/60Hz
380V 50/60 Hz
Rated current
5A
12A
24A
Number of threads
5
2
1
Board model
52180
52150
Variable excitation
Used to regulate motor excitation current. By means of trimmers, the circuit regulates the value of the rated current, minimal current and rated voltage of the armature; analogously to fixed excitation, it is connected to the converter by means of a cable.
Size 0
Size 1
Size 2
Size 3
Supply voltage
260V 50/60Hz
380V 50/60Hz
Rated current
2A
5A
12A
36A
Number of threads
3A
6,5A
15A
Board model
52140 + 52130
52140 +52190

Technical data
Power supply three-phase:
220 - 240 V -15% +10% 50 - 60 Hz
380 - 440 V -15% +10% 50 - 60 Hz
500 - 540 V -15% +10% 50 - 60 Hz
Control board supply (single-phase):
110 - 115 V -15% +10% 50 - 60 Hz
220 - 330 V -15% +10% 50 - 60 Hz
Max. excitation current:
-12A (24A on sizes = 800A) units inside the converter
- 45A with units outside the converter
Ventilation:
single-phase 220-230V 50-60Hz on sizes=220A

Working temperature:
45°C for naturally cooled coverters
35°C for converters cooled with external ventilation Max. air temp. 50°C
Derating :
1,2% of the nominal delivered current for each degree exceeding the nominal value
Humidity :
90% max. non condensing
Altitude :
all data valid for altutude 1000m above sea level
Accuracy:
- +/- 0,5% on max.speed under following conditions:
- load variation 0 - 100%
- mains voltage variation within +10% -15%
- mains frequency +/-3%
- working temperature +/- 10°C
- feedback signal ripple < 1%


Typ lines DC WAVE-R
Size
Nominal current
[A]
Max. current
[A]
Dimensions [cm]
E1
35
70
235x180x340
E2
60
130
235x180x340
01
45
70
235x220x340
02
70
130
235x220x340
03
120
170
235x220x340
04
180
250
235x220x340
05
220
300
235x220x340
06
250
350
235x220x340
07
380
460
235x250x640
08
500
730
235x250x640
09
850
1100
440x335x600
10
900
1300
-
11
1300
1900
-
12
1600
2200
-
13
2300
2900
-
14
2800
3500
-